Connect with your social network account
I <3 E30's
Posts: 5462
Joined: Fri Feb 27, 2009 5:17 pm
Location: Appleton, WI
Well, I noticed a while back that my axle boots were torn so this week I finally bit the bullet and did them. I have never done this before so my technique maybe be flawed so if you notice something that incorrect, let me know!
You'll also notice that these are the front CV axles on my car since I have a IX but I think that the rears are pretty close to the same thing so this should give you a idea of what to expect.
Torn Axle boot = FAIL!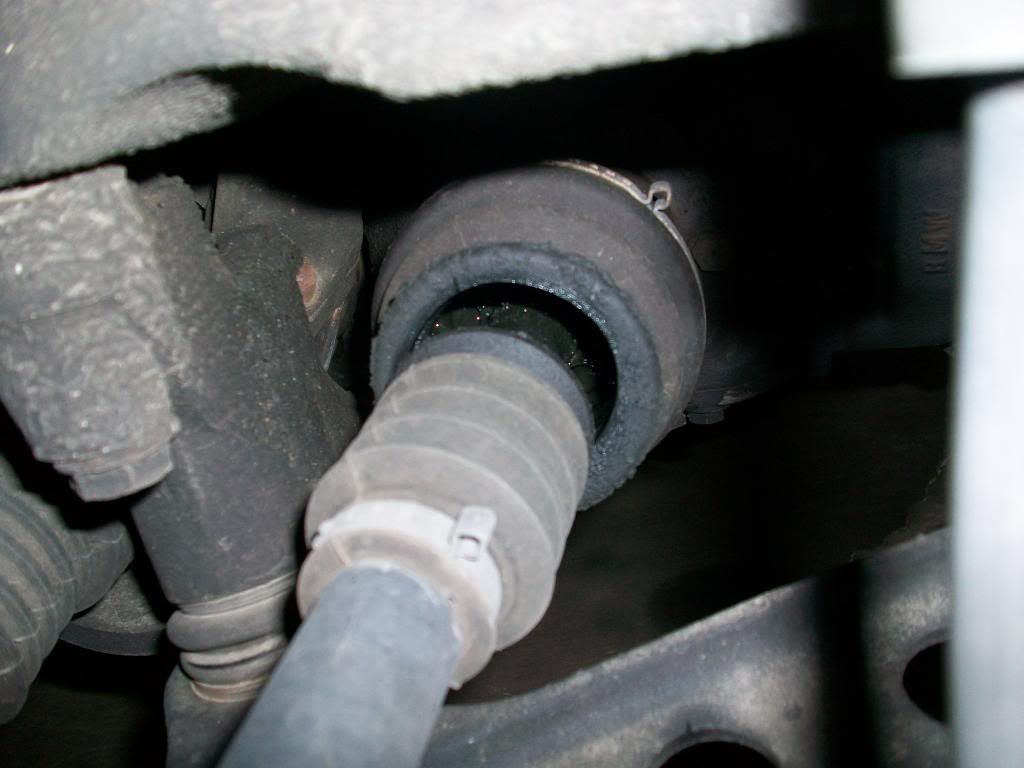 Well lets get started here!
Here's the list of what I used to get it done:
Needle nose pliers
(2) Flat screwdriver (or a circlip pliers if you have one)
Rubber mallet
Pin drift
22mm box end wrench (for the front control arm nut, Applies only to the IX)
Pry bar
30mm socket
Impact gun
Boot kit
New wheel nut locking ring
Hammer
Latex Gloves
ALOT of patience!
Since this is for the front on an IX, the rear axle removal will be a little more in depth. Reference Yoshi Wheel Bearing how to for getting the axle out.
viewtopic.php?f=22&t=623
Back to the IX
We start by obviously removing the wheel and placing it on a jackstand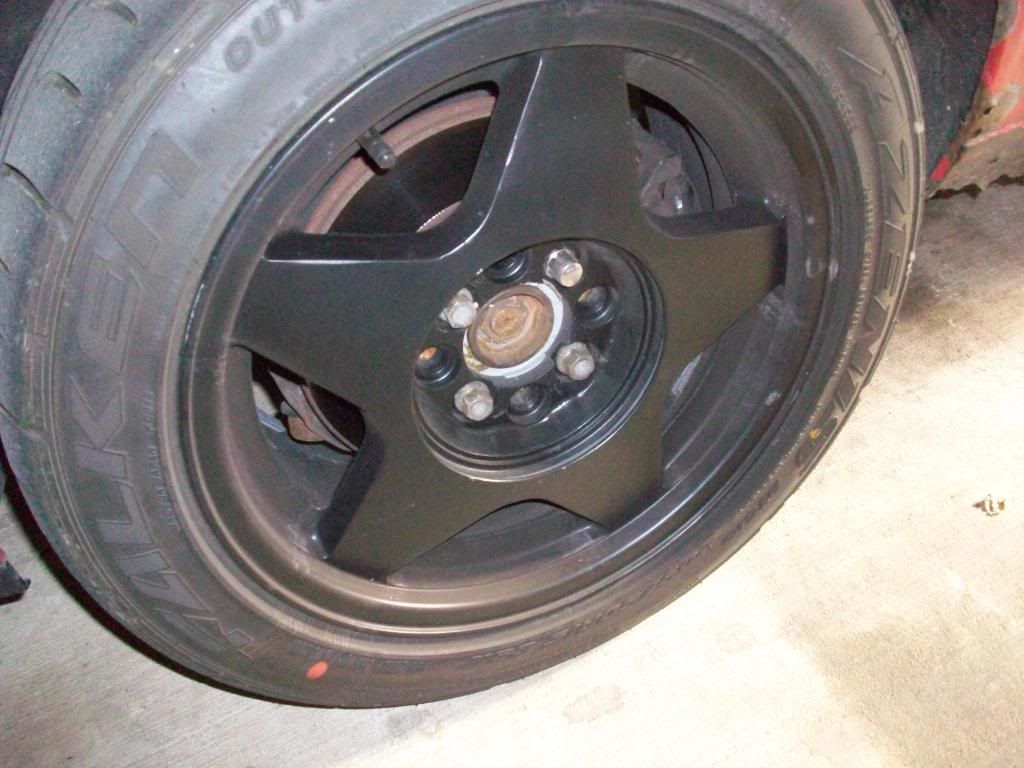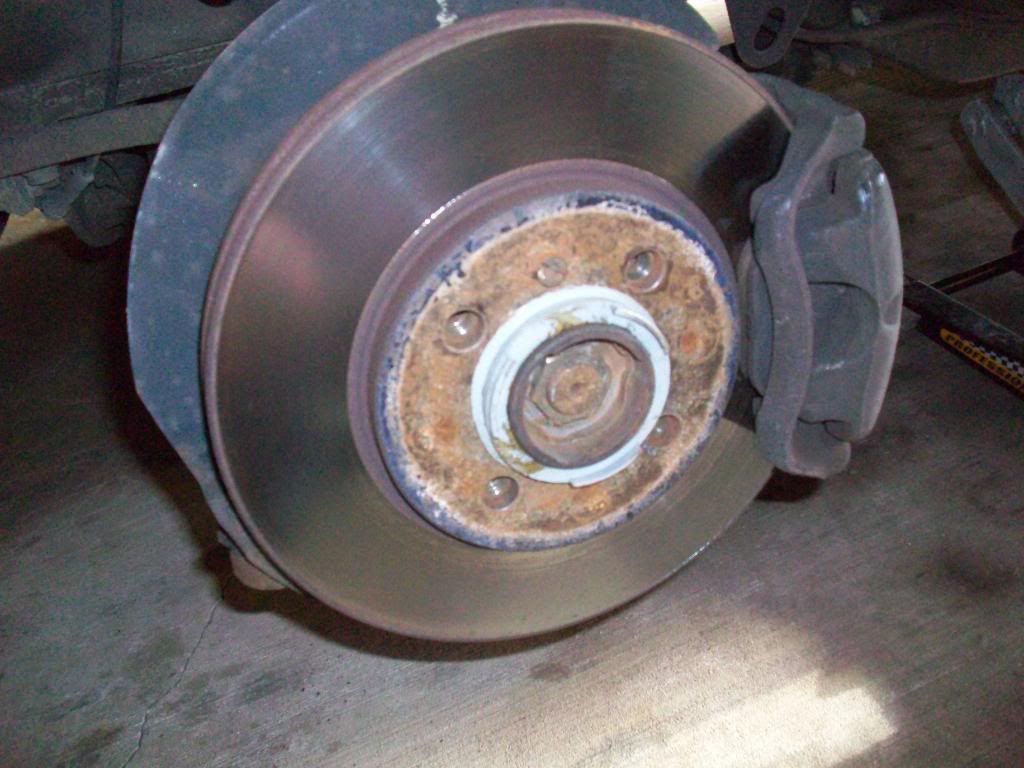 Now, pry out the old axle retainer with a small flat screwdriver or a pliers. It'll take a bit, but it will come off. Once that's off, use a 30mm socket and a impact (long breaker bar will work too.) If it doesn't break loose, it maybe necessary to leave the car on the ground to get it off. Mine came off with pretty quick.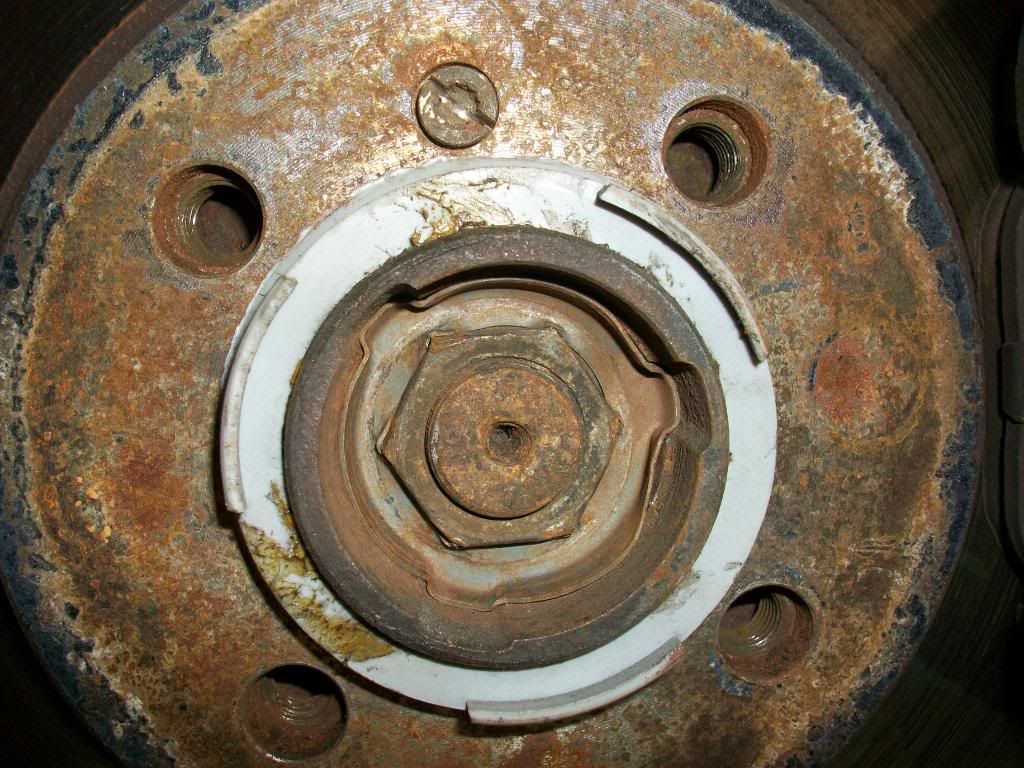 Next we can take off the control arm nut. That requires a 22mm wrench to get that off. It can be a pain in the butt sometimes, but ball joint will get stuck in the strut assy. This is because the ball joint is tapered so it locks in. To free it, it takes a large hammer which you hit against the area where the ball joint stud goes thru the assy. A few good whacks and it should loosen enough that you can take a extension or something to put on the control arm to act as a drift to pop the arm out of the assy.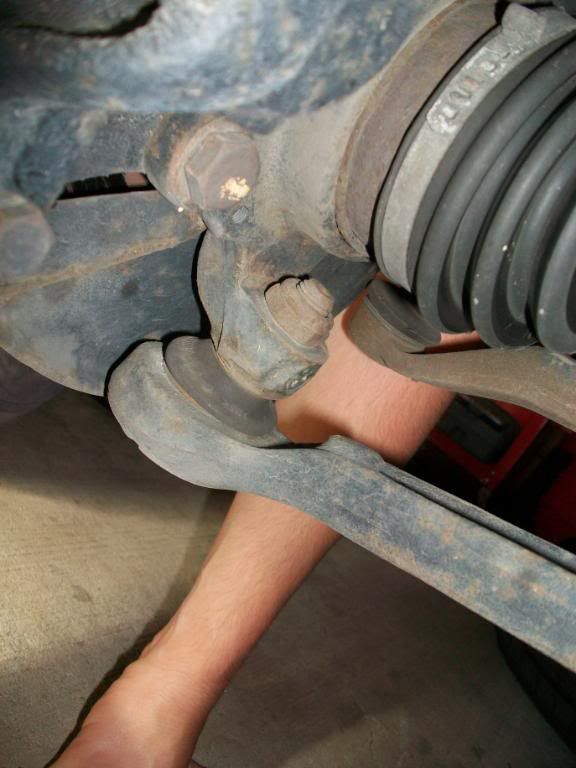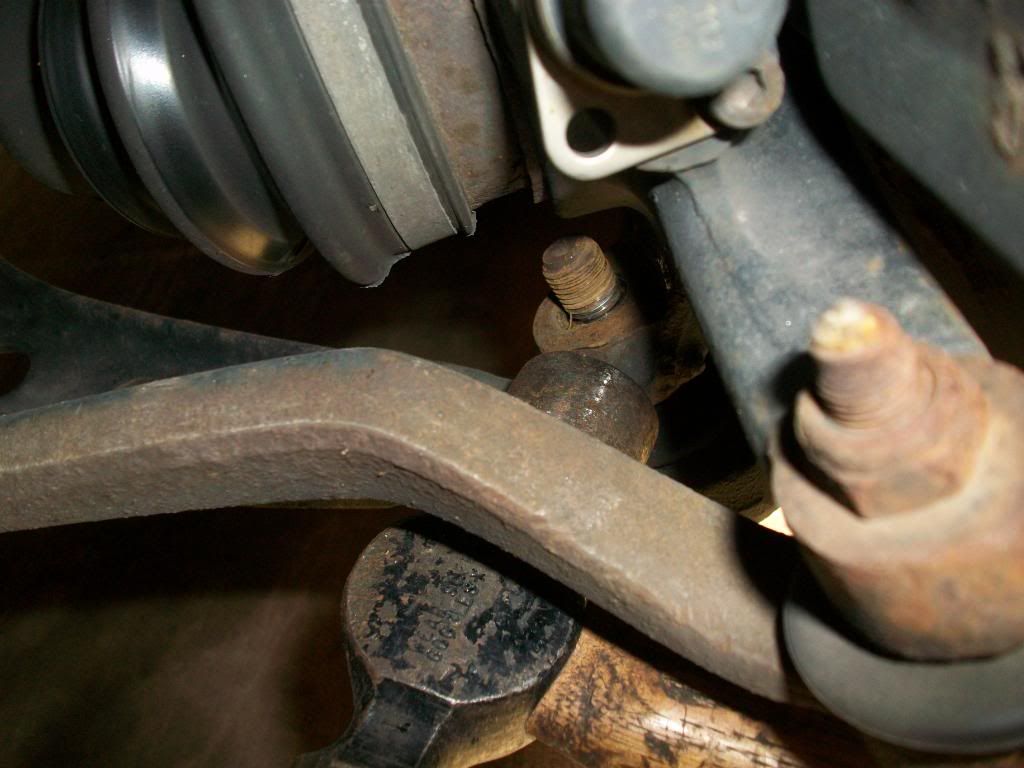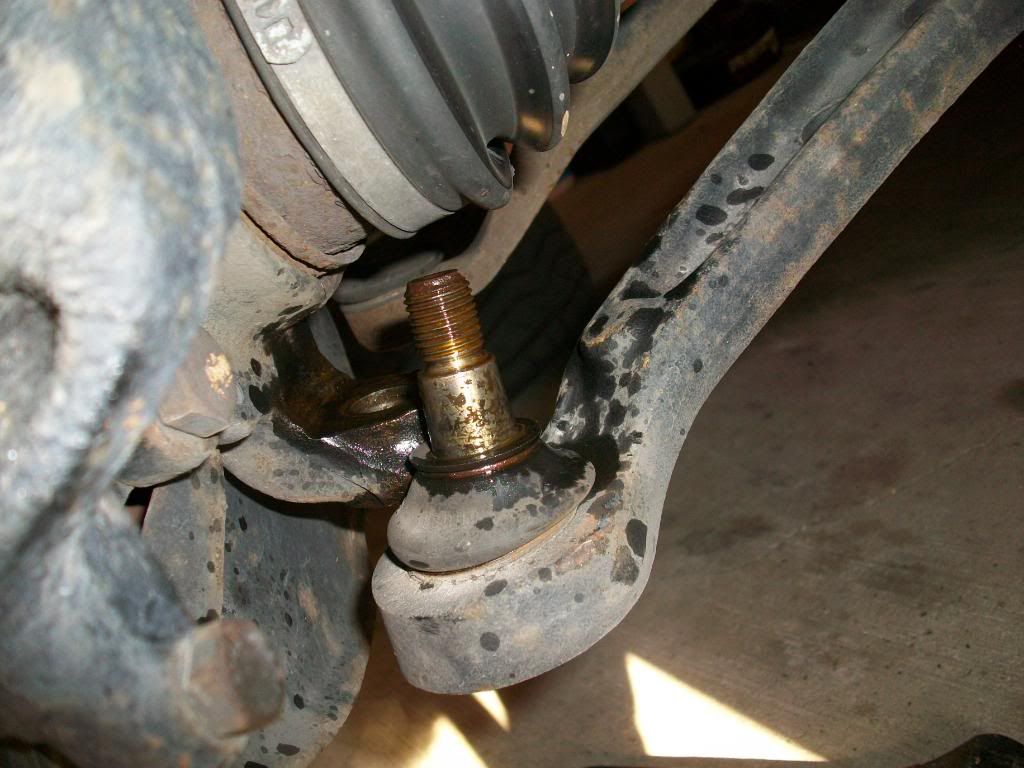 Next step is to pop the axle out of the hub. I am going to go back to this pic as a reference cause I forgot to take a pic for this step. On the end of the axle is a small indent. This is there so you can put the end of a drift on it for pounding the axle out. If your lucky, it will only take a hammer and a drift, but it can take a "pusher" (Ref Yoshi Wheel Bearing Write up for what i am talking about). Mine came easy-peasy so that was easy!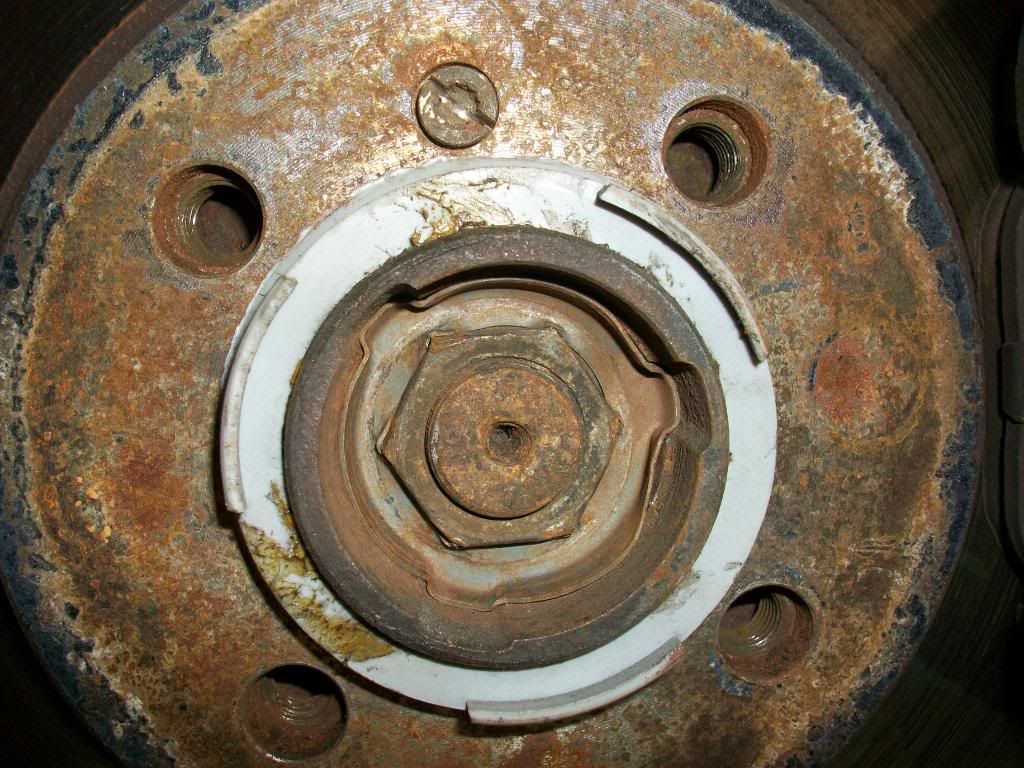 Almost out! Now, we just have to pop the inner joint out of the diff. I used a pry bar to do this. It will resist you prying it out but after a little bit, it should slide right out of the diff and there you have it, the axle's out! Only took me about 15mins to get it to this point....its the next part thats a pain.....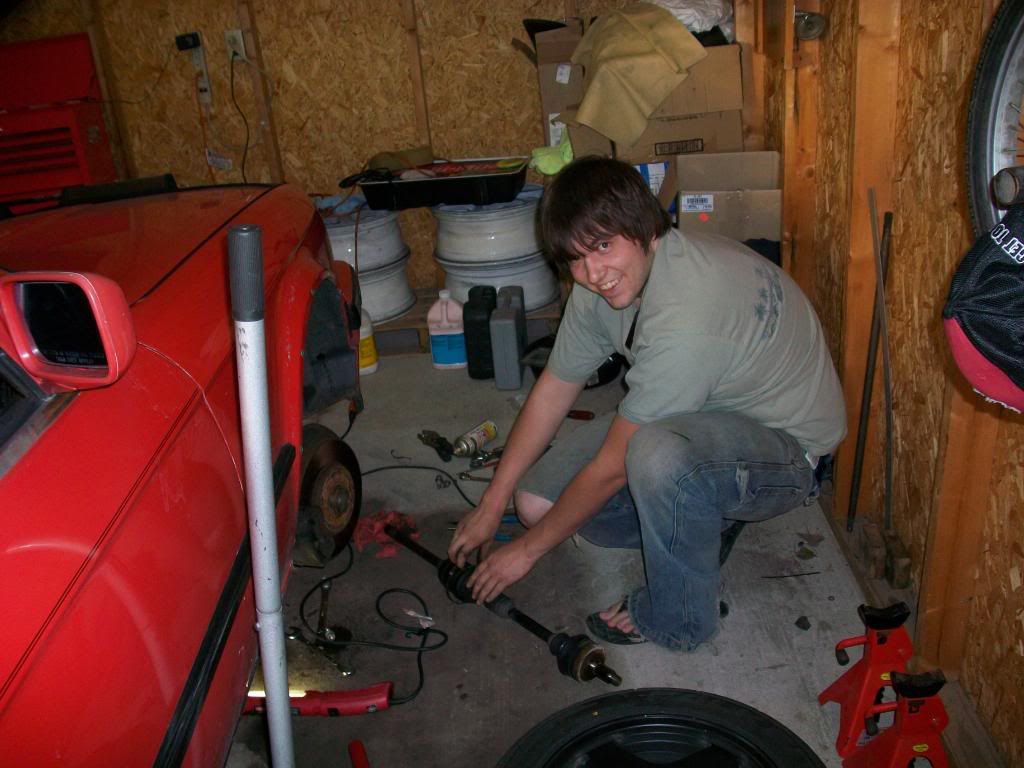 CV Boot Replacement!
Here is what should be included in the boot kit. I got mine from Pelican part for only $15 I think. It should contain the following:
Boot
Axle Grease
Small Boot Clamp
Large Boot Clamp
Circlip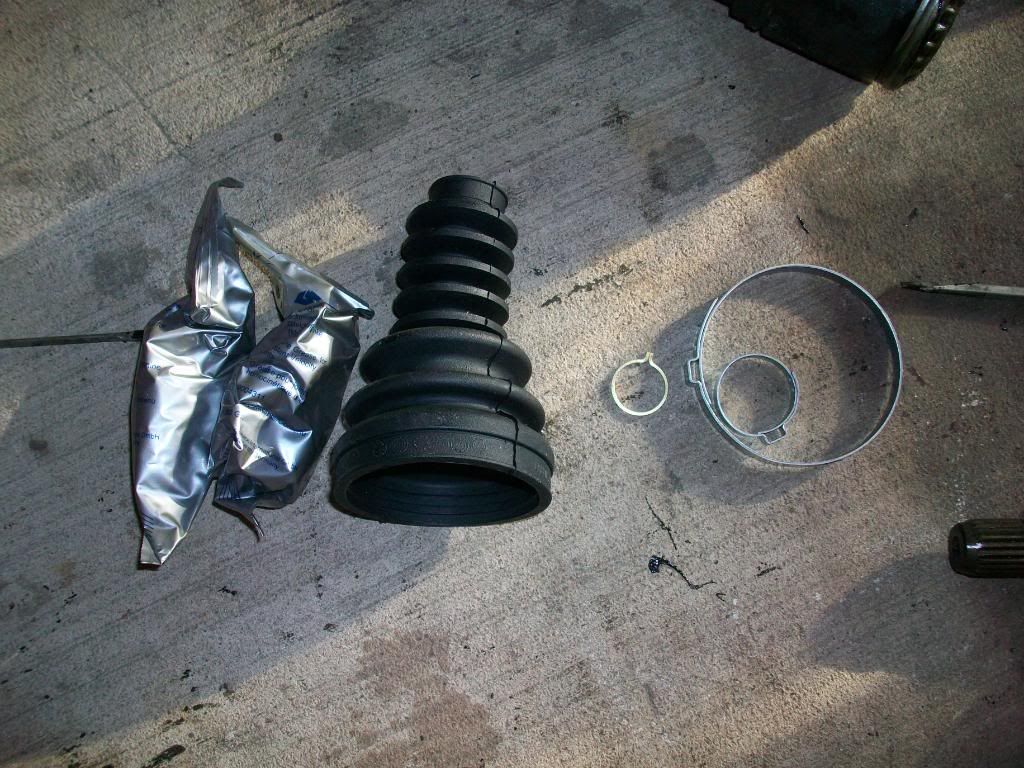 Alright...with the axle out, this is what you are looking at.
First start by undoing the boot clamp on the joint itself and the one on the shaft. they'll be nice and rusted so you can just cut them off or try to get it apart properly. Slide the torn boot back some so you can see what you looking at. At this point I HIGHLY reccommend putting on some gloves. Its up to you whether or not you do, but your GOING to get dirty....
With the boot pulled back, this is what is looks like. Tasty right...
Wipe off as much grease as you can. It will just make things easier in the long run. This is where it really helps if you have a friend willing to get their hands dirty with you. If you look closely at the picture below, you will see a small circlip in there. You need to spread that apart while also having someone hit the end of the joint with a RUBBER mallet. Nothing metal or you could damage the joint. It should end up sliding right off the splines.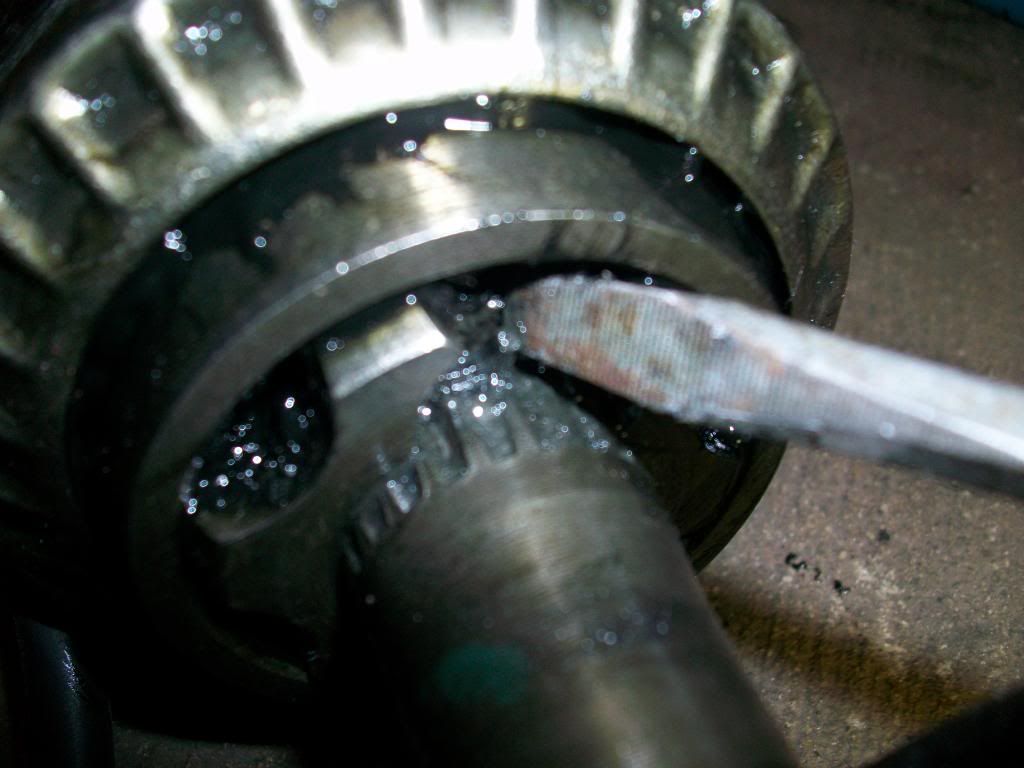 Up next would be pulling the old boot off the shaft. Clean it up all nice and such and slide the new boot with the small clamp onto the shaft. Now, go back to the joint and clean as much of the old grease out as you can. I just used a couple of cheapo rags to do that. Anyway, we need to remove the old circlip. It will pop out of there with a little persuasion, but it will come out. Same goes with reinstalling the circlip included with kit.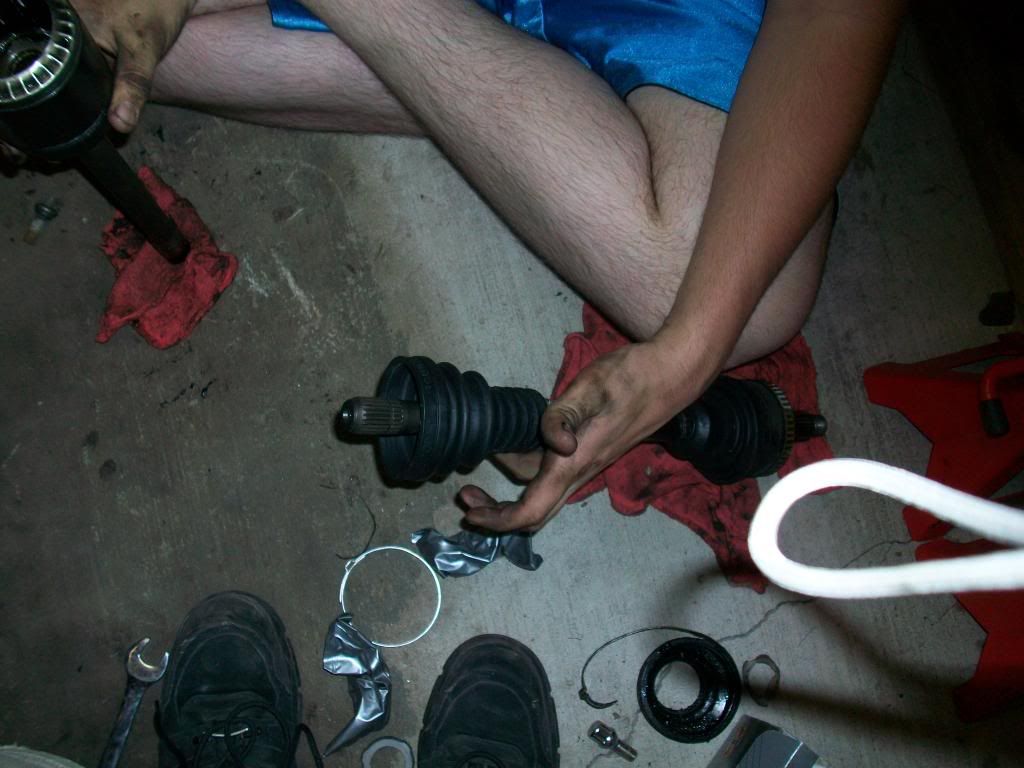 With the NEW circlip installed, line up the splines on the shaft to the joint and use a RUBBER mallet to pound the joint back on the shaft. The
circlip should just slide right back on to the shaft and fall into place once it gets to the groove it sits in.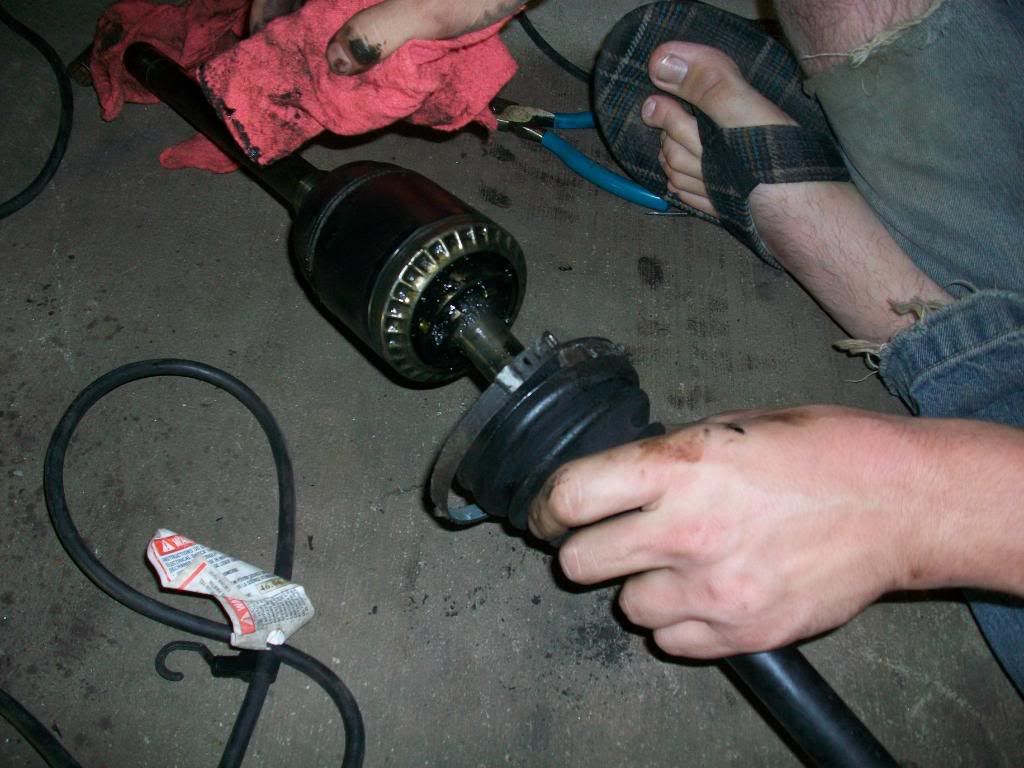 Now you can take the grease and fill up the joint with it. Some suggest doing two, but thats just a crap load of grease in there IMO. I only put in one because the rears only require the use of one pack which is 80 grams. I dunno, I am trying to find the correct answer. Work it into the joint and spread it around. Once you've packed the joint with grease, go ahead the slide the big end of the boot over the joint and use the big clamp to secure it. Make sure that you clean all the grease off the area that the boot get clamped too, you don't want it slipping off somehow.
And there you have it! A new boot on your axle!
For me, this is something that I HAVE to do on these front axles. Front axle for a IX can costs about $1100 a side which is practically what I paid for the damn car! Its a good investment to also do both while you have it out. I wasn't thinking, but I didn't buy the outer boots but I was really more worried about the inners. I don't mind taking them out again in the future if it will save the axles now.
I hope this helps!
Last edited by
ten2doyle102
on Thu Jun 04, 2009 4:20 am, edited 5 times in total.
I <3 E30's
Posts: 5462
Joined: Fri Feb 27, 2009 5:17 pm
Location: Appleton, WI
Finished! Stickify me cap'n!
Größter Vorsitzender
Posts: 11029
Joined: Fri Feb 27, 2009 1:28 pm
AntiSpam: No
Location: Northern IL
ten2doyle102 wrote:Finished! Stickify me cap'n!
done, glad to see I'm not the only genius that works in sandals. >_<

Midwestern Councel C Prepared class champion 2012
North Suburban Sports Car Club C Prepared class champion 2012
HSAX Instructor
GET YOUR E3P GEAR HERE:
http://www.cafepress.com/e3pgearshop
I <3 E30's
Posts: 5462
Joined: Fri Feb 27, 2009 5:17 pm
Location: Appleton, WI
I always wear sandals. You'll probably see sandals on saturday....
Site Admin
Posts: 9095
Joined: Thu Feb 26, 2009 7:47 pm
AntiSpam: No
Location: North VA
Contact:
wow everyone's camera is better than mine...

that looks like such a pain in the ass.... now if only those things took 400whp.
Status: HG repair. 488wtq though!
I <3 E30's
Posts: 5462
Joined: Fri Feb 27, 2009 5:17 pm
Location: Appleton, WI
They can take a good 300 or so when boosted.

I am quite surpised with that camera. Takes really detailed close ups as you can see. Its just a little kodak pns too.