Connect with your social network account
This will be a novel, so bear with me....I just want to be as open and honest about the car as possible. This is mostly a copy and paste from my craigslist ad.
I have for sale an 87 325es auto-x/street car that has been 4 years in the making. It was a daily driver that became a major project and I've had a lot of fun, but it is time to let it go It is not completely finished but pretty much all the hard work has been done for you....I would put it around 80-90% complete (everyone has different definitions of what "complete" really is); that being said, it can be test driven with no problem. I do have most of the receipts and invoices for the parts I purchased that will go with the car; anything I don't have is due to local or internet private party purchases. A ton of time, effort and money has been put into this project, and I truly would like to see it end up in the hands of another enthusiast.
Here is a list of the modifications and work done:
----Engine/Transmission----
-2.5L M50tu VANOS from a E36 325is w/new cylinder head
-Stock Getrag 260 filled with Redline MTL and new input/output shaft seals
-318is radiator w/ 16" electric fan and clutch fan delete
-New water pump
-Cooling system filled with factory BMW blue coolant
-Low-temp fan switch w/ low-temp thermostat
-Dinan full-length cold air intake (CARB-compliant, but no sticker)
-Revshift red poly motor mounts
-UUC red poly trans mounts
-325is flywheel lightened to 15.5 lbs.
-New 325is clutch set and clutch fork
-New clutch master cylinder and slave cylinder w/ Turner Motorsport steel braided clutch line
-Rogue Engineering short shifter w/ all new shift bushings and hardware
-3.73 LSD differential filled w/ Redline 75-90
-Engine bay moderately shaved and wire tucked
-ABS delete w/ non-ABS master cylinder and new brake lines
-A/C delete
-Cruise control delete (stalk has also been removed from the steering column)
-E30 M3 wiring harness covers
-New driveshaft giubo
-New power steering reservoir and new/like new PS hoses
----Suspension/Brakes----

-96 E36 M3 5-lug front hubs/rotors/calipers
-318ti 5-lug rear hubs/rotors/calipers
-B&G coilovers (I do not have the adjustment tool, unfortunately)
-B&G rear springs and rear KYB adjustable third-gen Camaro shocks
-Treehouse control arm brackets/bushings
-New 96 M3 front control arms
-Ireland Engineering green poly subframe bushings
-Ireland Engineering black poly rear control arm bushings
-Energy Susupension front sway bar bushings
-New front sway bar end links
-New E30 strut mounts
-Steel-braided brake lines all around
-New parking brake shoes
-New wheel bearings all around
-New (or rather, remanufactured) CV shafts
-Z3 short-ratio steering rack
-Staggered E36 M3 Contours (slight curb rash)
----Body----
-Full BBS body kit
-Smoked ellipsoid projector headlights w/ 4500K DDM HID kit
-LED license lights
-Euro grilles (some cracks, but not noticeable)
-Modified E36 M3 splitters
-Sound deadening tar delete (trunk and interior)
-New trunk weatherstripping
-318 non-pop out rear windows
-Power antenna delete (has a powered hidden antenna in the knee bolster)
-Windshield washer delete (nozzles still remain)
-Rust free (for all you east coast people)....there was a couple of nickel-sized holes in the pass side floor pan from the cowl drain; water had been trapped between the exhaust heat shield and the body. I patched them up when the car was stripped and went over the area with POR15.
----Interior----

-Custom reupholstered sport seats (vinyl)
-Leather headrest/armrest rear seat (leather is a bit worn, but no tears or holes)
-Harness bar w/ fire extinguisher
-E36 window switches
-E36 sunroof switch
-Condor Speed Shop tall delrin shift knob
-Custom M-thread stitched shift boot/e-brake boot
-E39 leather parking brake handle
-Full LED interior light conversion
-No cracks in dashboard besides small hairline fracture near the VIN plate
-Aftermarket stereo w/ aux-out, remote and amp/compact lightweight sub
-Dual trunk lights mod (LED)
-Late model rear deck with the integrated high-mount brake light
-Heater and vents fully functional
-Check panel delete (replaced with 318 blank panel)
-Mostly complete tool kit (I think it's only missing one item) and all stock jack equipment
-OBC delete
Now for the bad things/things that still need to be done.....keep in mind that these are things that are relatively minor issues that won't be hard or expensive to take care of. It may seem like a long list, but it's because I prefer to be up front and thorough....don't be scared
----Issues----
-Exhaust is technically functional, but it was not welded and thrown together for test drives so for all intents and purposes it is mostly a mock-up. I more or less threw it together to get an idea of exhaust pipe routing, and it was never meant to be permanent. That said, it does have good BAR-compliant E36 cats, and the Ebay muffler actually doesn't sound bad at all (Yes, it's a cheesy DTM knock-off....was supposed to be temporary, lol) It would not cost much to have an exhaust shop run the piping properly, that was next on the list of things to do.
-Paint is original and fairly decent, but it is wearing in some spots, and there are random small dings and scratches. The worst of it is on the driver side A-pillar and upper driver side fender, but it is not a hard fix. There are also small dents in the hood along with light pitting in the paint. Basically, I would consider the body fair to good condition going on how blue book or a shop would rate it....hard to tell in the pics, so you'd have to see it in person. I consider it a perfect 20-footer, lol. I can take more pictures of any part of the car upon request, and I have the huge full-size versions of the pics posted which will allow you to closer inspect any defects.
-Exhaust opening on the body kit was cut by someone previously; not sure why, but it won't be too noticeable as long as a muffler with decent size tailpipes is used. There is also a small piece that broke off right behind the driver side sidemarker. Full BBS kits are rare and expensive, so it would be worth it to have it completely repaired and professionally reinstalled, IMHO.
-Front end is roughly aligned good enough to drive around town, but needs to have a professional shop alignment done.
-Front tires are decent, but rears are fairly bald. I wasn't worried about this since I was messing around with tire sizes, but they do not have much life left.
-Fog lights do not work....not sure why, but it was not a priority for me to figure out anyway. The plan was to remove them and run ducts to the brakes for cooling.
-Headliner for the sunroof is starting to peel off near one of the edges
-Central locking does not always work, common problem on these cars...something I was going to look into, but for now I've just been locking everything manually.
-Driver side door switch for the dome light doesn't always work...I'm pretty sure there is a bad connection at the door harness somewhere
-Passenger side window goes up and down fine, but it makes a loud clicking noise when it hits the stops. May possibly be the regulator or broken clips
-Hood release was removed when I re-routed the engine bay wiring. I never got around to replacing it, so the hood must be popped through the front grille with a screwdriver.
-OBC was removed, so the plan was to install a euro analog clock, but I never got around to it.
-Small amounts of water get into the trunk sometimes; I replaced the weatherstripping, but I think it might be the tail light gaskets
-Odometer does not work, another common E30 issue.....stopped working shortly after I bought the car in 2007. It currently reads 154K and I estimate that I have put roughly 10-15K on the car since I have owned it, if that. No real way to prove it, of course, but there is very little left on this car that is original anyway....the total mileage is literally only on the body, transmission and driveshaft.
-As previously stated, ABS, A/C and cruise control have been deleted....not just the components, but the wiring harnesses as well. This car will never have any of those things again unless the main harness is replaced, so hopefully none of those things are all that important to you.
-Previous owner apparently tried to turn the car into a rolling boom-box....I found Dynamat everywhere. Not a big deal, but they did a terrible job on the trunk lid. The plan was to either get a new trunk lid or figure out a way to cover it up somehow.
Now to the main issue (if you're in California): The car is not smogged. It has been specifically built to pass BAR, but the exhaust needs to be finished and a stock air box needs to be installed (not hard to find). I am sure it will have no problems passing after these issues are taken care of; this was not a quick and sloppy project, and I made sure all the bases were covered and no corners were cut. A check engine light was installed and works properly (87 model year did not have one, but it's required for BAR) and nothing was modified past the point of being illegal. Stock OBD 1 exhaust manifolds were retained, as well as all necessary evaporative emissions equipment. On the plus side, the car is currently registered non-op, so there will not be any back fees at the DMV, and the title is clean.
One thing I must stress is that this was primarily built as a track vehicle with fairly limited street use, though it would function fine as a daily driver if desired. I have been driving it around my neighborhood almost every day, including a couple runs to my work on the highway (22 miles round-trip), and it ran like a champ. In any case, the car will be sold as-is, and with no warranty of any kind. I will be working on the car here and there until it sells, so some of the above issues may be taken care of, time permitting. If so, I will edit the ad accordingly.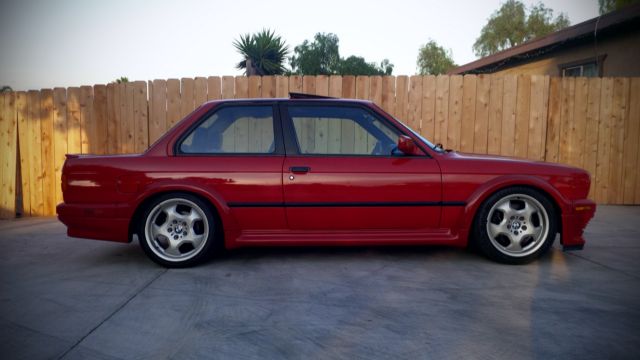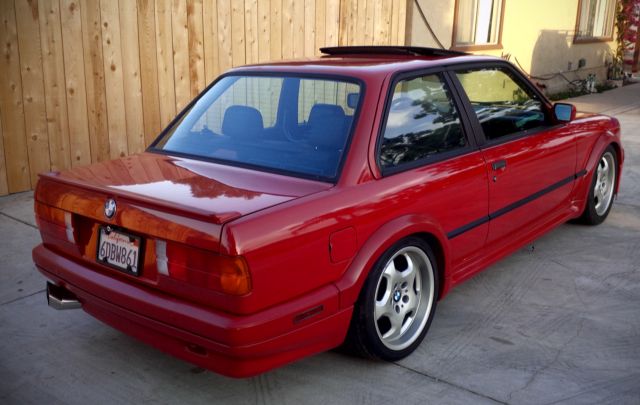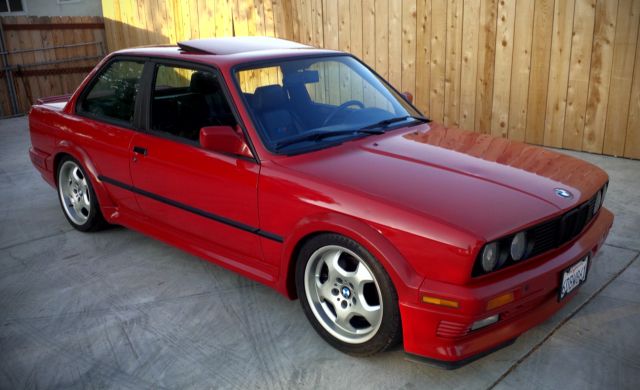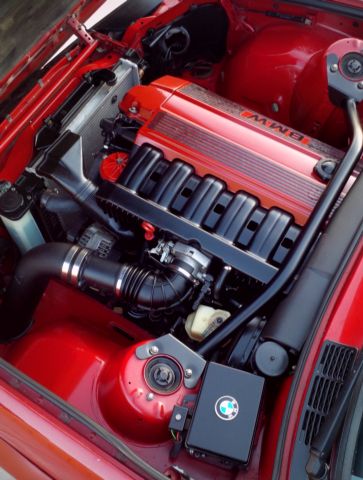 I am asking
$6500 obo
...I am somewhat flexible but I will not budge much. Trades are always considered, but in this case I would need mostly cash on top. Please remember that this car was built to be run on the track and/or daily-driven for the most part....it's not a show car by any means (that would take considerably more work)....external cosmetics were last on the list. I've been low-balled hard by locals due to the whole BAR thing, so I'm taking a crack at an out-of-state sale even though I thoroughly detest shipping cars.
Thanks for your time.....I also have pictures from various states of the build so you can get an idea of what was done. Contact Jason @ 6198502001 (texts preferred)
Jason
That engine bay is pretty. Too bad it's red though.
Schwarz 5-speed 87 325is (newest project)
Arktisblau 5-speed 86 325e (current DD)
Schwarz 5-speed 87 325e (parts car/LS1 swap?)
Gazellenbeige automatic 85 318i (70,000 miles)
Alpine white 5-speed 87 325is (my first e30, possibly for sale)
99 Suburban
that's one pretty car man. GLWS.
Thanks guys....car has been sold!
Jason